Yurts
Yurts are a circular domed dwelling. They're portable and self-supporting and originally used by nomadic Mongol and Turkic people of central Asia.
They used pelts and sheep's wool to cover the lattice walled frame. From there struts lead to a central roof ring. All of this held together with ropes which were usually made out of animal hair.
Pelts and wool were used for insulation. More was used during the winter and less in the summer.
Here's what a traditional one looks like in use...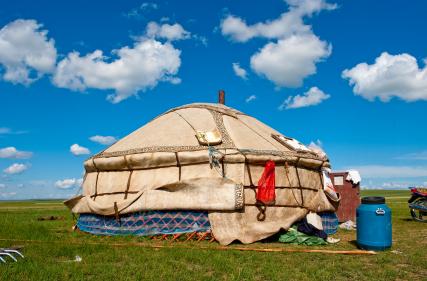 Today they are used throughout the world for several purposes including modern living here in the west.
They're now being used not only to live in but as office spaces, yoga studios, backyard retreats and more.
Anyways, we'll explore that--and more--in the pages below. Including places where you can vacation in one.


Living in one
What it's like to live in one and the benefits of a round open spaced dwelling.
Yurt Living
More on what it's like to live in one... Drawbacks and benefits.
As Homes
This page features pictures, videos and info on people in the West that use a yurt as their home.

Portability
How long it takes to put together, take apart and how many people it requires.

GoYurt Shelters
The most portable, lightweight and easiest to setup on the market. Made to last with high quality non toxic materials.

Shelter Systems Portable Domes
This company offers the least expensive and most portable. They come in an array of sizes and can serve several purposes.

Homemade
What a homemade one looks like and what kind of work it takes to put one together.

Wooden Yurts
Wooden versions are the permanent alternative to the canvas. Learn more, see pictures and links to resources.

How to Build
Different ways to build and options for home made versions as well as kits and building plans.

Plans
Resource page for building plans.

Floor Plans
Floor plans that show bedrooms, kitchens, bathrooms, living areas and more.

Vacations
Places where you can stay a few nights in one.

Companies
Two awesome companies/manufacturers. They are on the market now for recreational, living, office, and business purposes.