Class B RV

Fully Featured Small Motorhomes
What is it about a class B RV that makes it appealing? This is a great section for me to write about because I have a 1995 Ford Falcon 190.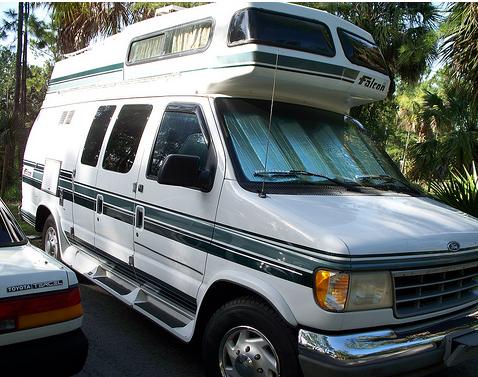 Why did I get it?
It fits in regular parking spaces
It's easy to drive
Quicker to clean and maintain
And it's just the right size
I didn't want something huge because then I would be less likely to stop at many places. Fitting in a regular parking spot is a big plus because it just gives more options when you're on the road.
As for as gas mileage, for me, I don't think there's a big difference. Because my RV is older it gets 15-16 MPG. It all really depends on how I drive but it's still much better than 8-10 MPG.
Anyways this section is dedicated to class B RVs and other small motor homes. Links to content pages within this section will be below. Check back often for updates.

Class B RV Rentals
Tips on where to find rentals. Pictures, floor plans, links, and prices within.

Airstream Class B Motorhomes
About Airstream "Coach" Motorhomes. Late model, new, and their differences. Pictures, video, vehicle info, links, and more.

Class B Falcon
Intervec's class B Falcon RV. Pictures of mine, general info, and links to resources. There's even a group for Falcon owners. Do you have one? Tell us about it.

4x4 Class B Motor Homes


4x4 Class B Motor Homes are awesome for the adventurer in all of us. Imagine a vehicle that can take you just about anywhere AND has all the features of an RV!

Fulltiming in a Class B Van
Fulltiming in a class B van can be challenging for some. But here's what it's like to live in a small motorhome. Some couples even do it.

Class B Dealers
Here is a list I've compiled of Class B dealers. In addition some tips on where to find listings, used class Bs, and more.

Used Class B
Used can be a great way to get into a small motorhome inexpensively. Tips on buying, what to look for, where, and more.

More Used
Videos of small motorhomes.
Compare Class B Motorhomes
On this page I compare class B motorhomes. From micro VW campers, astro vans with pop ups, to fully featured 19 foot camper vans.