Electric Bicycles
Electric bicycles are a part of simple living and smaller houses because they provide us with a way to get around while using less fuel.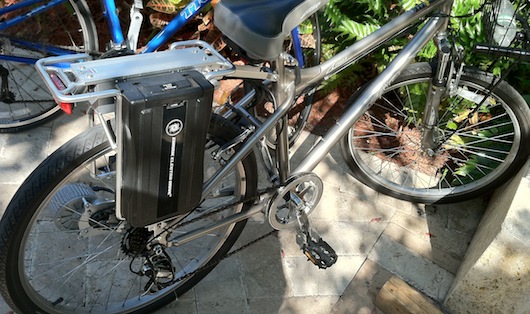 Of course--pedaling is even better (because it's exercise) but using technology to help in certain situations just might make your life easier. Or maybe it can replace the dependance on gas/oil?

For example someone who goes up and down hills could make great use an e-powered bicycle.
What if work is twenty miles away? It's a great way to get rid of the car without having to completely rely on your legs all of the time. Plus it's just fun...
So this section is dedicated to everything on this topic.
Electric Hub Bikes
A video of an e-bike with a hub motor that still weighs under 10 pounds!
Using Solar On Recumbents
Solar recumbent trike and bike, this is a user submitted page - thank you for sharing your story, Bob!

Hub Motors
How hub motors work, rear ones, what you'll need for a complete kit, and where you can get a kit.

Homemade
Watch this video about a fairly high powered (72 volt) electric bike. It can reach 50 MPH and go for about 20 miles.
Folding Ebike
If you want a bike with electric power and the ability to fold up and take with you just about anywhere. Great for commuting, and RV / boat traveling.

Recumbent
A look at an incredible (and super unique) that was converted by Matt Shumaker. Videos and pictures within.
Schwinn E-Bicycle
A look at Schwinn's latest in e-bikes

Plans
A few different ebike plans to consider / check out.
Laws
E-bike laws and things you should know.
Water-powered Car
Japan unveils a car powered by water and electricity, and you never have to charge it!