USING SOLAR.....
by BOB
(FLORIDA)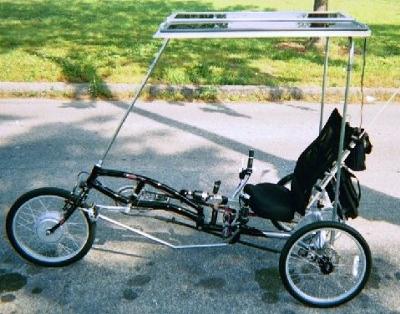 SOLAR TRIKE
FOR QUITE A WHILE I WAS INTERESTED IN SOLAR, BUT IT WAS ALWAYS WAY TO EXPENSIVE, OR COMPLICATED AND REQUIRED SOME EXPERTISE THAT I DIDN'T WANT TO PAY FOR, OR TAKE THE TIME TO ACQUIRE.


I AM A DISABLED VET, HAVING A BAD KNEE, BUT ALSO HAD AN INTEREST IN BICYCLING. REGULAR BIKES, CALLED DIAMOND FRAMES, WERE PAINFUL TO RIDE.
IT WAS WHILE STAYING ON MY TINY HOUSEBOAT IN THE KEYS THAT I BECAME FAMILIAR WITH RECUMBENT BIKES. I HAD TO GO EACH DAY ABOUT 40 MILES TO DO E MAIL, AND DRIVING THE TAHOE WASN'T CHEAP ON MY FIXED INCOME.
THAN I DISCOVERED RECUMBENT BIKES. I WAS RIDING MY NEWLY PURCHASED THE 40 MILES, WHICH TOOK MOST OF MY DAY, BETWEEN THAT, LUNCH, E MAIL, AND A COOLING SWIM, AND THE RESTING OF MY KNEE, PRETTY MUCH KILLED THE DAYS.
IT WAS WHILE PLAYING ONLINE THAT I DISCOVERED ELECTRICALLY ASSISTED BIKES. THERE ARE MANY STYLES AND TYPES, MY FIRST WAS A CURRIE, ADD ON, TO THE REAR. IT WAS FLAWLESS AND ASSISTED ME FOR ABOUT 3,000 MILES. IT WAS ALSO A PLUG IN AND GO.
NO WIRING FOR ME! I THAN THOUGHT ABOUT HOW TO ADD SOLAR TO IT, AND I DID. TWO SMALL PANELS ADDED OVER THE FRONT WHEEL. MY BEST DAY AFTERWARDS WAS 120 MILES IN 10 1/2 HOURS AT 85 DEGREES, PULLING A 65 LB TRAILER, WITH WATER, FOOD, A CHANGE OF CLOTHES, SPARE TIRES, ETC.
AFTER GETTING MARRIED, MY WIFE, WHO WAS NOT A BICYCLIST, DIDN'T RIDE A TWO WHEELER, AND COULDN'T KEEP UP WITH ME ON HER RECUMBENT TRIKE. SO I ADDED A 24 V CHINESE HUB MOTOR TO THE FRONT, AND TWO 15 WATT SOLAR PANELS TO GIVE HER SHADE AND POWER. ON IT I CAN DO 100 MILES BEFORE LUNCH! WITH HER ON IT, I CAN BARELY KEEP UP!
I HAVE ATTACHED A COUPLE OF PHOTOS. IF ANYONE IS INTERESTED I CAN GIVE YOU SOME FREE ASSISTANCE AND ADVICE.
I NOW HAVE RIDDEN 4000-5000 MILES, IMPROVED MY HEALTH, MADE SOME COOL FRIENDS AND NO LONGER HAVE A NEED FOR THE ASSIST.
WITHOUT IT I WOULD HAVE CONTINUED TO DEGRADE MY KNEE, AND PACK ON THE POUNDS. I HAVE PERFECT BLOOD TESTS NOW AND LOST OVER 40 LBS ON MY SOLAR JOURNEY TO GOOD HEALTH. IT IS ALSO A COOL WAY TO GET AROUND, SAVE MONEY, AND MEET NEW PEOPLE.
THINK SMALL----AND EFFICIENT!
BOB