Teardrop Trailers

Teardrop trailers are small, light weight, easy to pull, and great on gas. All of this and more makes them one of the most economical ways to RV.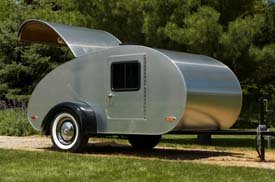 They were born after World War II--built from the spare parts of damaged war vehicles and airplanes.
Today they are popular again for the same reasons as in the past. There is no need to buy a more powerful vehicle to tow with because they can be pulled with most four cylinder engines.
They are sleek, aerodynamic, and fully customizable. I have noticed that people with classic retro vehicles love to have a matching camper. They love to show them off at car shows and gatherings.



For those who seek off road adventures there are modifications you can make to make the campers 4x4 ready. This way you can take your little bedroom on wheels with you to extend your journey off road.
Did you know that some teardrop trailers can be pulled by motorcycles?

They are becoming popular again because of their simplicity and affordability. For everyone who still wants to travel but does not want to do it at 8 to 15 miles per gallon these are a great option.
It is an upgrade from a tent and still offers the convenience of towing and going. You do not have to pack all your camping equipment because you can keep all that in the trailer, making it perfect for quick weekend get-a-ways.
They are the most economical way to RV—they are convenient, inexpensive, and fun while offering better protection from the elements and wildlife compared to a tent. Some now have generators and air conditioners installed!



They are great for those who desire to go camping on the weekends and they are also a good option for anyone who wants to go on a cross country road trip without spending as much money on gas and maintenance.
More Teardrop Trailer Pages Below...
Teardrop Trailer Manufacturers
List of manufacturers--from one man builders to corporations--along with brief information on each.
Travel Trailers
Using them as travel trailers for camping / mini RVing.

Plans
Building plans. Where to get them, different resources, and links to free plans from dated magazines. CAD designs too.

For Sale
Best places to find them, new/used, and links to manufacturers. Do you have a teardrop for sale? Add it here for free.

Kits
This page lists and talks about available kits. From frames to full blown DIY kits that save loads of time and hassle when building.

Woodie Teardrop
Silver Tears Campers' Woodie model
Little Guy
Little Guy camper is the largest manufacturer of teardrops in the United States. On this page we'll learn all about them. Pics, videos, and info within.

Little Guy's classic and off road models
Another look at Little Guy and their awesome 4x4 (off road) model as well as their "classic" silver shadow model.

Homebuilt
Homebuilt information. No weld trailers, costs to build, people who've done it, and resources to do it yourself.

Air Conditioner
Tips on how to do it, different ways, people who've done it, and more.

Light Weight
Weight of different models, benefits, average weight, and more.

Tent Accessory
Tent to expand your compact camper. Different options, reviews, pictures, and resources.

For Motorcycles
Light weight versions for easy towing, models that work, motorcycle requirements, weight, pictures, and more within.

Discussion Groups
This section's on teardrop trailer discussion groups. I'll give you links to forums, Yahoo! groups, and where to list your teardrop for sale.