Go Yurt Shelters

GoYurt Shelters has made the most portable and lightweight yurt on the market. Their shelters go back in time by focusing on portability and simplicity.
Did I mention this is probably the easiest to set up yurt you can buy?
The design enables you to set up quickly and with no tools. Wall sections are easily joined together through a unique wall union that they developed (patent pending).
Materials
These dwellings are made to last because of their craftsmanship and high quality materials. They use FSC certified wood and 100% cotton marine grade canvas instead of PVC vinyl.
All finish on wood is non-toxic and they're always looking for new ways to make the right environmental decisions.
Their yurts are built in limited quantities--taking their time with each one to ensure it's quality.
Size
GoYurt's only model is 13 foot in diameter. They are developing 11 and 16 foot versions.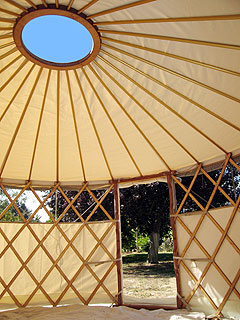 Weight and Portability
The shelter breaks down into bundles that weigh around 25 pounds each so it's easily carried. In total it weighs about 200 pounds.
Set up time
It takes approximately one hour to set one up with two people and thirty minutes to take apart. Go Yurt has designed this yurt so that it can be set up by one person--it will just take longer.
Flooring
They use a unique waterproof cover that's fire resistant and heavy duty. It's made out of polyethylene material and it helps protect the wood lattice while preventing the canvas from touching the ground directly.
Opening and Closing Ring
There's a separate canvas that covers and attaches to the outside for this. According to their website it takes seconds to open and close it.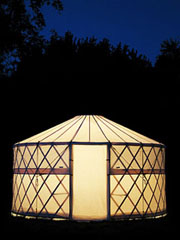 Warranty
GoYurt Shelters offers a 3 year warranty on materials and workmanship. This does not cover any abuse or neglect. The better it's cared for the longer it lasts.
How Long Will It Last?
This depends on how well it's cared for and how it's used. Using it all year long in a high UV environment it's estimated the canvas will last 3 to 5 years.
Using in it a few times per year and storing it carefully will help it last almost indefinitely.
The frames, roof ring and poles should last a life time with proper care. The wood does require maintenance on the finish to keep away moisture.
Specs
Diameter: 13'Roof Ring height: 8'3"Wall height: 5'8"Total weight: 230 poundsNumber of roof poles: 30Number of wall sections: 3Ring Diameter: 32"
Hardware and materials are made out of a combination of lightweight aluminum, stainless steel and marine laminated birch hardwood with a Pure Tung Oil Finish.
Pricing
Note: GoYurt Shelters is not accepting new orders at this time. I'll republish their pricing information here as reference and I hope that they start producing again soon.
The complete yurt package is $3,900 and the DIY version is $2,900.
The Do-It-Yourself requires sanding, finishing, attaching hardware, riveting walls, cutting and attaching straps to roof poles. All that is estimated to take 3 weeks to complete.
Every yurt is hand made and numbered.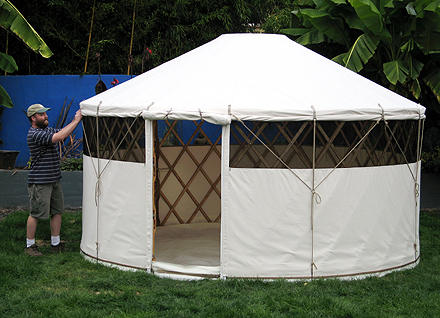 Photo credits: GoYurt Shelters

Learn more about these portable yurts - visit GoYurt Shelters directly. Link opens in a new window.