Tumbleweed DIY Book

Jay Shafer has just released a Tumbleweed DIY book along with Tumbleweed House's release of their latest six box bungalow house designs.

His new bungalows are just 99 to 107 square feet in size which make them small enough to build in most properties without the need of building codes.
Alternatively you can also build the structure onto a flat bed utility trailer for mobility if that's something you wanted.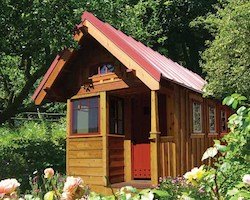 Photo Credit: Tumbleweed Houses
Six New Box Bungalow Designs
These little bungalow structures have so many uses that we could go on and on. But let's go ahead and go over just a few because I'm curious... What would you build one for?
Spare backyard bedroom
Backyard office
Art studio
Music studio
Workshop for your craft
Little backyard cabin
Vacation cabin
Guest house
Rental
Inside there's a first level as well as an upstairs sleeping loft. Alternatively you can just install a
Murphy bed or even a mobile wallbed
.
The way these work is you first pick a shell. Meaning you pick your favorite of the designs and you worry about the interior later as there are unlimited ways to fill the space.
The building plans are $49 and you can get the kits to construct your own for as little as $13,000.
Video Tour of the Gifford Box Bungalow

This video tour is here thanks to Kirsten Dirksen of Faircompanies.com who went and visited Jay during one of his first open houses featuring the Gifford design.
DIY Book and How To Get It

For more on Tumbleweed's new book, Box Bungalows and building plans click here.