Tiny Home Builders at the Orlando & Jacksonville Home & Garden Show

I thought it was pretty cool to see Dan Louche of Tiny Home Builders at the Orlando Home & Garden Show speaking and participating in the event.

He was able to bring one of his tiny houses called Tinier Living which is so far his tiniest design on wheels yet.

And one of the best parts is how many people got to learn about tiny house living at the event that had never heard about it or seen a fancy little cabin on wheels before.
Hundreds of New People Learning About Tiny House Living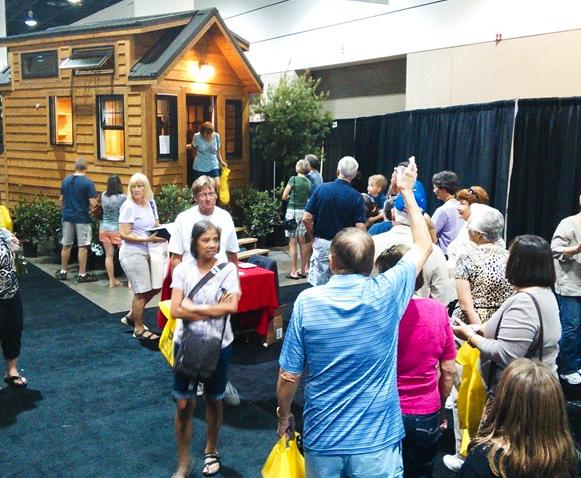 Photo by
Tiny Home Builders
He said it's quite possible that more than 20,000 got to see Tinier Living. And it had to be THE most popular attraction at the event with lines of people waiting to step inside and tour it.
Spreading the Word About Tiny Houses

I've been doing my best to spread the word about these little homes for the last several years. I've even had the chance to do so in person at several workshops and events.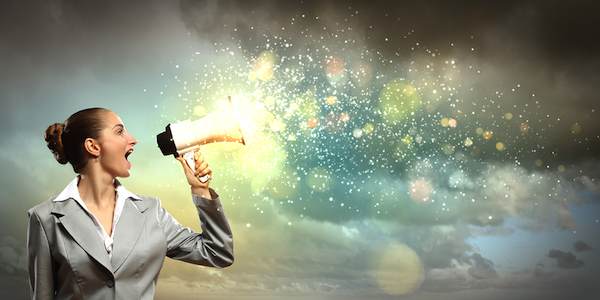 And it's so awesome to see people's faces when they get to see one of these homes in person. They light up at the possibility of it all.

At just how simple life can really be. Anyway, way to go Dan on continuing to spread the word on living simply through micro housing because it's a great way to gain more control over our own lives. You can read the rest of the original article on his adventures to the Home & Garden shows here.

3 Ways You Can Spread the Word About Simple Living & Micro Housing
I don't know about you, but when I get passionate about something or find a way that can help people live better, I get excited about it and I REALLY wanna share it with those who want to hear.
Key phrase... With those who want to hear about it!
I say that because there's nothing worse than unwarranted life tips. Nobody wants to be told how to live unless they're curious and ask. Right?
So here are 3 non-pushy ways to help spread the word about tiny house living with or without getting off your butt! :D
Start Living It!

The best way to share something new is to embrace it and become a student of it. A student that practices the art of simple living. And this doesn't mean to take it to an unhealthy extreme... Do what's right for you! But

do

more than you talk.

Start Sharing!

If you're doing it and you're happy with some of the results that simplifying your life has given you, start sharing.. Whether that's going to events and letting people tour your tiny house or simply sharing some interesting articles that helped you on your Facebook or Twitter. You can even start your own blog, write an eBook or host local meetings on living tiny.


Help Others Start Living It Too!

Now that you've been experiencing the benefits of living simply it's only natural to guide others towards the same. And by now, people might be approaching you for tips and advice. It could be just your friends and family but you might have the calling to share this lifestyle with the world.
Hands on Workshop with Dan in Asheville
In case you're just getting started and you're curious about building you might want to consider one of Dan's workshops. Right now he doesn't offer that many so there are only so many chances to get to go to one of these.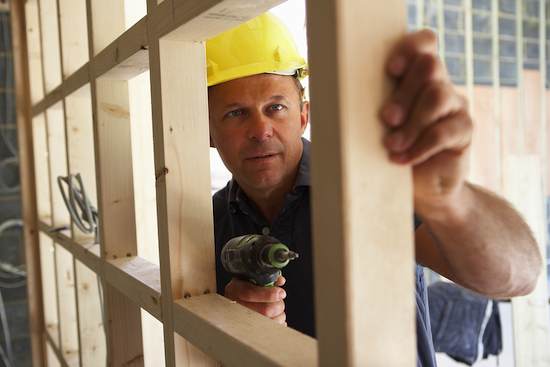 People who attend get to build contacts with other tiny house lovers from around the country. You also get to meet Dan and have him address your specific concerns.
Not to mention you'll get to benefit from everyone else's helpful questions (and answers) too. I've been to quite a few of these and the way Dan runs it is right up my alley because even if you have no carpentry experience you'll still feel comfortable.
And you'll leave with some real experience that you can actually count on if and when you decide to start your own woodworking project of any kind, including building a house (or just a shed) from scratch.
So yeah, I encourage you to check out Dan's workshops here.
Learn how to Build with these Videos & Plans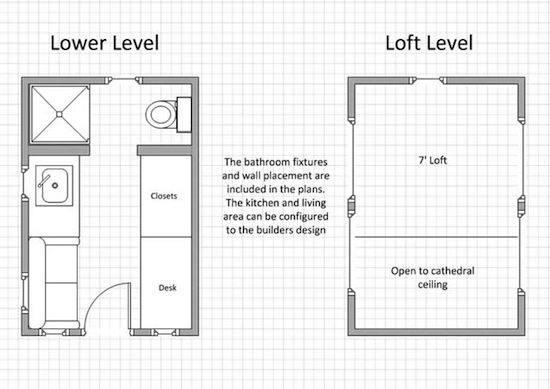 If that's too much for you right now you can start learning a lot of the basics on your own using his step-by-step construction guide which has tons of photos, illustrations, diagrams and how to on most people's questions like how to attach a house to a trailer, etc.
Finally you should also know about his videos and plans, too.