Small Truck Camper

No really... It's a super small truck camper!
Paul converted his little Toyota truck's bed shell into a micro camper. He did this after getting laid off from Boeing to go on a seven week long road trip.
Here's what his truck looked like from the outside:
I know, that is SMALL! And you can't really tell it's a camper, either. Stealthy!
Here's what it looks like on the inside...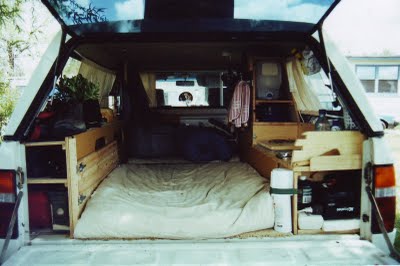 Even though it's little, Paul still managed to squeeze in plenty of features...
Radio


TV


Lighting


Fan


Bed


Storage


Curtains


Tiny kitchen
...and more. Visit Paul's blog High Mileage Trikes and More to see more pictures of his truck camper. He has many other interesting projects to look at, too.
That's too tiny!
I know, I know. Living in this small of a space would be pretty difficult for most people, including me. I think it's great for road trips and camping, though. So for those of us who like small, but not quite that small...
Let's kick it up a notch... This camper is small and more aerodynamic yet still has many of the features of an RV.

This video will explain it all...
Are you handy? Build your own...
Read how Bob built his own truck camper. He says it's possible to build your own for under $1000, and he tells you how.
Thank you to Paul for letting me show everyone pictures of his custom made RV.