Small Space Solutions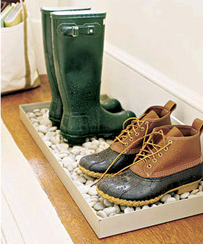 Small space solutions are ideas to help you organize your small home.

I'll show you some helpful ways to reduce clutter and take advantage of every square inch of space in your house.
If you live in a small space or are moving into one you will benefit from these ideas.
Living small is difficult when you have too much stuff. Getting rid of unnecessary items is a must unless you want to pay for off site storage.
Once you have gone through your belongings look around the house for extra space on the walls, in cabinets, on floors, and under your bed or stair case.
Keeping that in mind take the ideas listed below and put them to use creatively in your small house.
Small Space Solutions
Sliding storage racks for the pantry, closet, and bathroom


Photo Credit: Dwell


Under sink storage shelf are helpful in the kitchen and bathroom


Using a magnetic spice rack can help clear cabinet or counter space


Hanging pots and pans in the kitchen clears out a lot of cabinet space
Photo Credit: Apartment Therapy


Having a built-in bookcase or shelving is good for office spaces and living rooms


Benches with drawers or bins underneath is a good place to store shoes, gardening tools and raincoats


Wall-mounted shelves above furniture and doorways gives extra space for photos, books and flowers


Get creative by making your own small space solutions like this extra closet converted to a tiny office


Use a small tin box filled with river pebbles to create a rock bed for your shoes.
Photo Credit: Martha Stewart


Old crate boxes can easily be stacked into shelving
Try these ideas and let us know how they work out for you. Remember if you don't love it, get rid of it!