Small House
500 Square Feet 2-Story Cottage with a 1 Car Garage
I thought you'd like this small house because it's still relatively tiny at just 500 square feet. It's called the Minto and one of SmallWorks Vancouver Laneway House designs.

Images by SmallWorks
My favorite part about a house this size versus one on wheels is that it's still really similar to conventional living except it's still way smaller. Yet you still get a lot more of a spacious feeling so you can have more appliances and a better kitchen if you like to cook.

I also like the idea of having a garage because vehicles are pretty big investments and being able to keep your car sheltered like this helps maintain its value over the years. I also like using a garage because if it's rainy outside or anything you avoid contact with the weather when you get home or when you head out which just sometimes can be useful.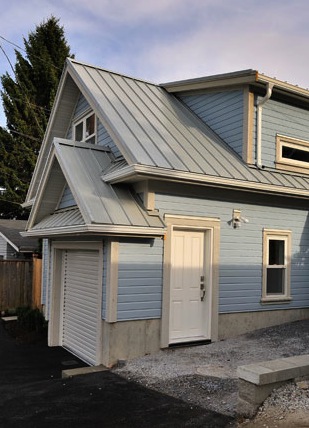 And if you don't use the garage to store your vehicle you can use it to keep your stuff or to work on projects like building a teardrop camper. Okay but enough about that garage! Let me show you the rest of this small cottage.

Here's a look at the rear of the property. This is where when you look the opposite way, you get to see mountains. That's pretty awesome. I also like small houses because they're on foundations. Sure you usually have to comply with zoning and pay ridiculous fees but there's a lot of peace of mind that goes along with living 100% legal. And I'm not saying that living tiny isn't doable legally because there are many ways.
So let me take you inside the Minto. When you go inside all you have on the first floor is the garage and bicycle storage outside. Once you get inside, which you can access directly through the garage, all you'll see is a bedroom downstairs with a closet, a utility closet, bathroom and a staircase that leads you upstairs. See the floor plan below:
And here's the upstairs floor plan so you can visualize how it all works: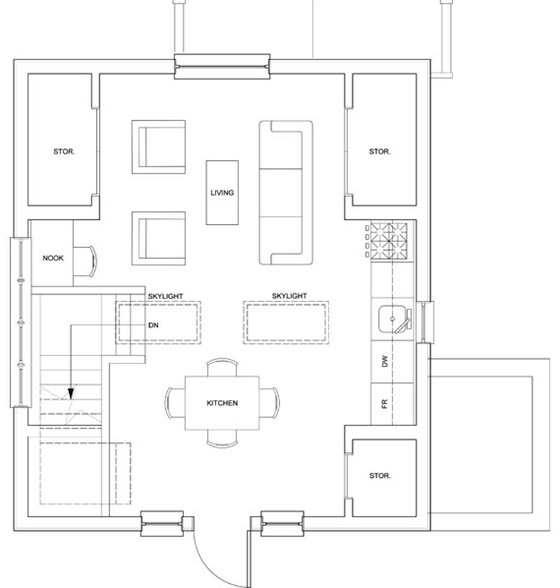 Images: SmallWorks

Like I said earlier, it's just 500-square-feet so you can't expect much. It's actually pretty tiny for a "single family house" these days, isn't it? So let me show you what it actually looks like.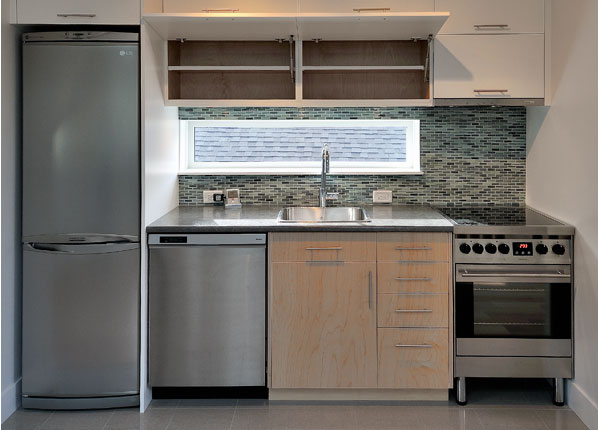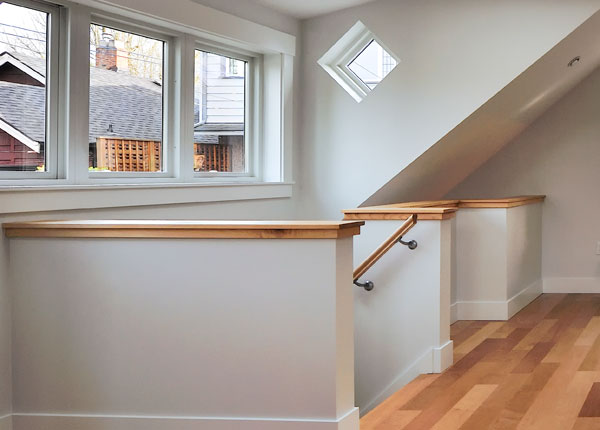 Images: SmallWorks
The upstairs living area is where you cook, eat, chill on the couch and even work since there's some nice space for an office nook here. I don't know about you, but I hope people like Sam Zell and other Real Estate moguls start developing communities with affordable homes like these in place of oversized McMansions.
Learn more about SmallWorks and the 500 sq. ft. Minto here.

Get More Small House Related Updates in your Email!
If you enjoyed this small house you'll love our free daily tiny house newsletter!