Small House Kits

Small house kits usually come in the form of prefabricated--also known as prefab--homes.
They're easy to assemble because they've already been designed and manufactured off site... Before they ship it out to you.
Here are other words that are related: factory built, factory made, panelized, mobile, manufactured and pre-cut.
These companies seem to be growing--as well as the demand--on this page we cover manufacturers, architects and any helpful related topics.
Here are some examples of these structures...
Shed
Cabin
Modern style
Backyard office
Yoga studio
Music studio
Art studio
All architecture featured on this website is small--usually 1,000 square feet or less.

How it works
Each company has their own way of doing things but the following are the basics from what I'v learned.
Prefab homes are manufactured and packaged off site. Then they're assembled at the construction site.
In some cases the integral pieces of these structures are manufactured and packaged off site. These pieces are then shipped to the construction site and assembled there.
Modular or panelized homes are sometimes designed with pre-existing or "standard" sizes and they are built on site using these components.
In all cases much of the design and work has been done off site by another organization which helps make construction time on site faster and easier.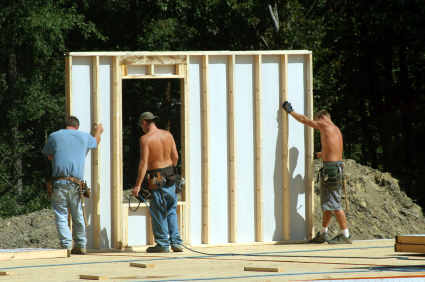 Here's an example of a prefab wall from a kit
For just $19.95 you can buy Michael Janzen's Tiny Prefab, a do it yourself prefab building system to create your own small house kits.