Small House in the Woods

A small house in the woods is relaxing and makes for a great atmosphere for writing, art, music, and anything else that requires creativity.

It can just be a get away cabin or you might work from home in it. It's all up to you. Let's explore some pictures and interesting links.



The rustic little house shown here is right by the beach with drift wood all over the shore and the forest behind.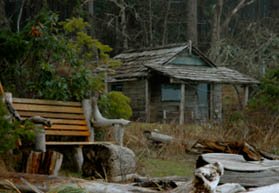 This photo was taken by Sally Scott and is stock number 2861660.
Some people make their own tiny house right in their current backyards.
If this is something that's possible for you think about converting a garden shed, building a tiny house, buying a yurt, or constructing an adult sized tree house.
You can use it as a get away, guest house, office, writing space, meditation, or anything else that you can think of.
I used to have a neighbor that converted her garden shed (and yes it was near the woods) into a little art studio and she would show the neighborhood kids how to paint.
Why live in the woods?
Because it's quiet yet you can make as much noise as you want and you have privacy.
Some other reasons are being able to grow your own food, being able to do almost anything you want, and it's beautiful.
Pictures from Other Websites
Small house in the woods in autumn at Tiny House Lover.
Rustic cabin in the woods also at Tiny House Lover