Key West House Boat

Ahh, a Key West house boat. The perfect place to live in one... Even if only seasonally. It's a great place to be if you love people, seafood, life on the water, good music, and fishing.
On this page I just want to feature several house boats from the Keys. There are so many down there... Including entire communities with them.
There are houseboats that are flat bottomed which are not really made to go exploring and then there are pontoon house boats which you can actually get out and adventure a bit in.

But for the most part, if you want to get some fishing or boating in you might just want to consider renting that type of boat for the day—it can be much more fun.
There's a place called Houseboat Vacations of the Florida Keys in Islamorada. They have a nice set of pontoon style houseboats you can rent in a few different sizes. A perfect way to "try before you buy."
One of the benefits of renting from them is that they will offer you a other boats to cruise around in for really great prices. As I skim through their site right now you can get a 20' Mako for just $125 per day when you rent a houseboat as well.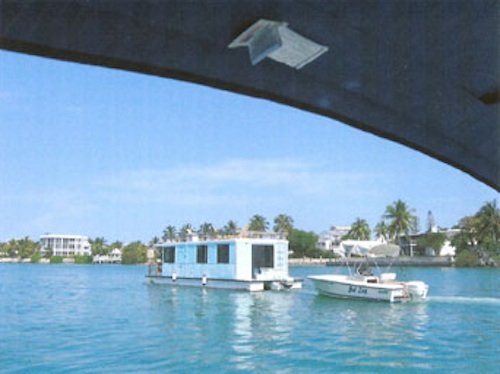 Call them at 305-664-4009 for the most current rates. They have kayaks, canoes, 17' to 25' boats, and house boats for rent.
While you are there you can explore some of the houseboat living communities in the area to see how you like it.

To learn more about these boats, visit Houseboat Vacations of the Florida Keys' website. Link opens in a new window.