HIGH CAMP CONVERSIONS
by STEVE BURGMEIER
(MONTANA)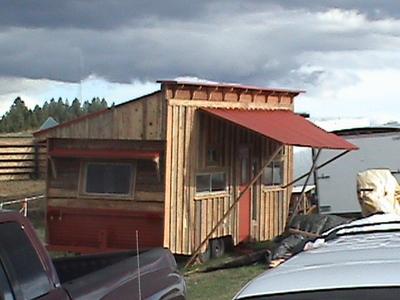 COWBOY CAMPER CONVERSION
Camper was given to me for free from a job site.


Did pain new flooring and circle sawn wood cabinet fronts.
Can send better quality photos if interested.
Porch rood is temporaried in this photo.
It folds down for transport.
Will be installing a small wood stove next.
This will be used on our remote property as a guest cabin as we will be building our own "tiny house" this year.
We enjoy your blog!
Thanks,
Steve