Hand Hewn Log Cabin
by Melanie Farkas
(Bellevue, MI)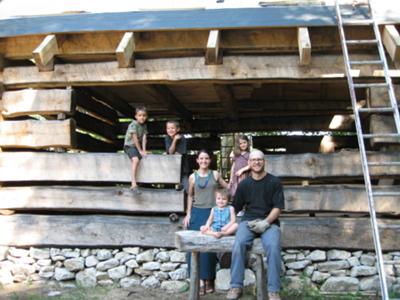 The roof is almost on!
We don't live in our hand hewn log cabin full time. Instead we use it as a get-away for our family of seven. My husband cut down all the oak trees and built the whole cabin, mostly alone. He had no plans...just studied books and every cabin he could visit. At night when he was in bed, I'd say, "What are you thinking about?"


"Oh, I just built the next part of the log cabin in my head," he'd say! He was constantly building in his head. Then he'd go out to the woods and do it in real life.
It took almost two years to finish...and we are still working on the inside to add a loft for sleeping, but we camp in it during the spring, summer and fall and have held special winter holiday dinners there. It is a very special place to be.
It feels like a lot of work to me to take all the children there for a holiday (especially when we had two toddlers), but the memories we make when we do are so special that every chore is worth it. Being in such a small place, in close contact with nature...its different than being home with computers and telephones ringing - there goes one now as I write!
Tiny houses have always intrigued me because they force you to prioritize! That is what this little hand hewn log cabin does for me. It makes me say, my family is the most important thing right now. These children will only be young for a little while!
Thanks for your beautiful site!
Joe & Melanie Farkas
Log Cabin Adventures