320 sq ft of pure Bliss
by Debra
(Siloam Springs, Arkansas)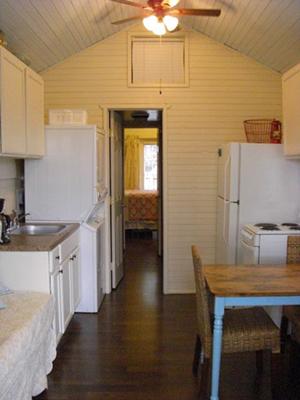 Living Room/Kitchen
We are a family of three, living in a 320 sq ft cottage. I designed the space, but it was built by Scott Stewart of Slabtown Customs.


We paid $12,000 for our home, a small price to pay for the peace of mind that has come with our cozy fortress.
We decided to simplify after having struggled for so long to maintain a 'semblance' of normality. It was just so hard to stay focused on making a living, and paying for our lifestyle, when what we really wanted was to be with each other!
We now have time to volunteer, learn guitar, teach our son Spanish.....so many perks!
And our home is just adorable - check it out: http://www.minkeebabygifts.com, click on 'Our Cottages'