Our Tiny Apartment...
In Downtown Naples, Florida
Our tiny apartment in Olde Naples was awesome! Most would consider it tiny but for us it was still pretty roomy.
We never really measured it but we would say it is about 500 square feet.
The building was built in the 50's and it's called the Thomas House. It was definitely one of the original apartments in Naples.
The best part about it is that it's located in perfect walking distance to popular 3rd Street Shopping, 5th Avenue Shopping, three blocks from the beach and only about a 7 block walk to the famous Naples Pier.
Here are a few pictures we took while we lived down there.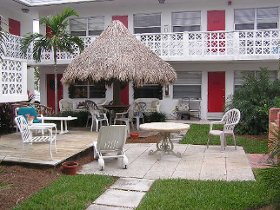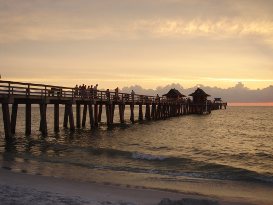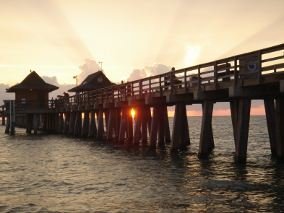 By choosing an older small apartment we were able to rent in the best part of the city for the same price as a bigger one bedroom condo a few miles away from the beach.
So we sacrificed...
Less space
Less storage
Older building
Less privacy (50's style apartment building)
No private lanai for rental price
Had to use community washer and dryer
But in return we got...
Three block walk to the beach
Seven block walk to the pier
Seven-Eight block walk to the city dock
Four blocks to 5th Avenue shopping, dining and night life
About four blocks to 3rd Street shopping, dining and night life
Parades right on our street
Holiday events just a few blocks away
Walkable distance to huge park
One unexpected thing that I got out of the whole thing was a sense of community. The other apartments I've lived in before had a lot of privacy, which I actually like.
But this apartment was designed without privacy in mind. The building forms a U shape and everyone's front doors and windows are in view of each other so you see everyone a lot more. People say hi to each other and converse quite a bit. It was fun.