So you're looking for a
tiny house company...
Lucky for you, I think you came to the right place. :)
I've been looking into tiny house companies for a while, so you'll find most of what I know here.
Every builder is different in their own way. Some focus on quality and design... Others more on affordability and recycling. So in the end, it's really about finding out what's right for you.
So let's dive right in...
First up, is Tumbleweed Houses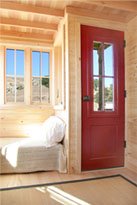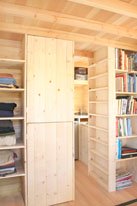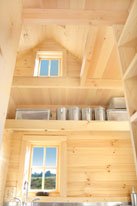 I love Jay Shafer's homes. They are definitely not a bargain... On the contrary, they're probably the more expensive option. But still, the choice for me.
As the old saying goes, you get what you pay for. Okay, not always. But Tumbleweed focuses on high quality plans, thorough designs and the best support. And almost all of their designs have been built and lived in.
Most of their building plans are $999. The price includes the blueprints as well as a consultation with the owner. I'm pretty sure you also get to go to a seminar (but please don't quote me on that one).
I recently purchased their XS house plans, which I hope to start building soon. For me the decision was easy... I knew I wanted to go with this company because I want a house that is built right. One that will last and is thoroughly planned out... As well as tested.
...Plus I caught the XS plans when they were on sale. No consultation or seminar for me though.
If you want to purchase these building plans, just follow the link and it'll open in a new window for you.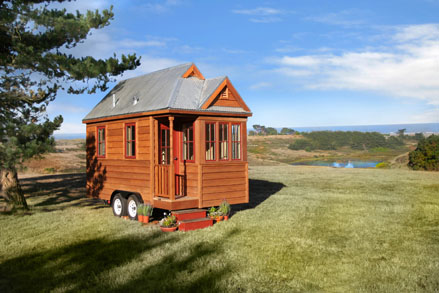 Pictures of the Weebee courtesy of Tumbleweed
Next up is Yes Wee Cabins...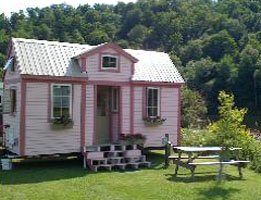 Tim Guiles, owner Yes Wee Cabins builds some really gorgeous houses on wheels. Plus he has some really neat options.
Tim builds these little homes because they help promote peace, are fun, comfortable and more affordable. Not to mention the obvious benefits like cleaning and maintaining much less.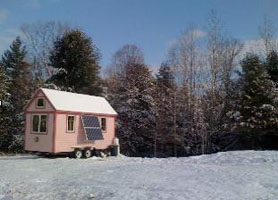 Here's one of Tim's homes with the solar power feature.
But let's get back to "the options"...
This is what I love about this company. He offers you several ways to get started. Here are some of the options...
A construction guide book
Building plans
Do it yourself cabin shell kit
Do it yourself full cabin kit (with appliances and all)
The cabin shell (built for you)
The complete cabin (built for you)
To get in touch with Tim, you can
visit his website
. There you'll find more information on pricing, some pictures of his work and his contact information. Tell him Alex from Tiny-House-Living.com sent you.
If you feel that any other tiny house company should be listed here just contact me and let me know.